It was a simple statement, but a life-changing one. My wife Maria and I were at our home in Middlesex County on a typical Sunday morning. I was pouring through the NJ Star Ledger and her statement, out of the blue was: "I'd like to live on the water." It caught me off-guard. We had been lifelong residents of NJ, spending all of our years between Essex and Hudson Counties and about 30 years in Edison, NJ. Living on the water had never been discussed. My wife, being Portuguese, had lived as a child in a seaside village so I could understand her affinity for the shoreline. While dating and after we had our two boys, we certainly enjoyed spending weekends at various Jersey shore locales such as Seaside Heights, Point Pleasant, and LBI, to name a few. As a lark, I turned to the Real Estate section of the paper and scanned it for "waterfront" properties. A very tiny ad for a home that was being remodeled by a contractor caught my eye. It mentioned "Mystic Island." Being a lifelong Jersey boy I had never heard of it. What's a Mystic Island? We were about to find out.
That afternoon we took a ride to Exit 58 off of the Garden State Parkway. We discovered Mystic Island. It is the waterfront community of Little Egg Harbor Township. Many of the homes in this subdivision are on lagoons. We were intrigued to say the least. It was one of the best kept secrets in NJ. Maria & I were still years from retirement, but we felt it would be nice to have a place on the water. A place where we could get away for a weekend or extended vacation time. A home where we could build memories with our loved ones, friends & family. A place that would ultimately be our retirement home. That day we met with a realtor and she began to show us various homes on this gem of a town. However, it would be several months and weekend trips before we found our "perfect" place. We closed at the end of June 2001 and had our first 4th of July weekend in our new home. We had no furniture for the new place so our boys and their friends slept in sleeping bags dreaming about crabbing off our dock the next day. Memories were starting to form.
---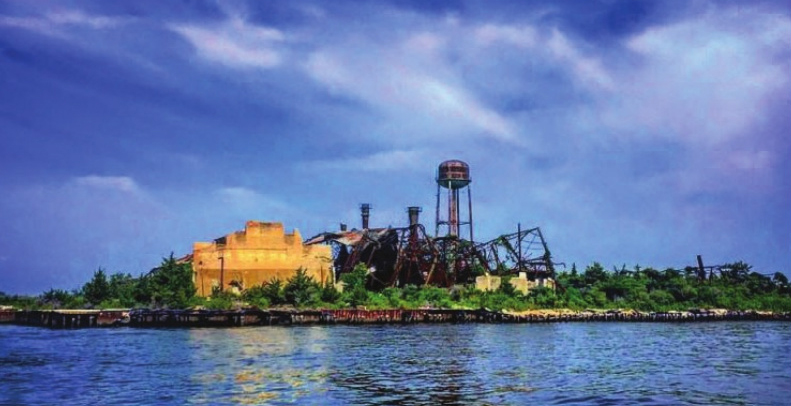 ---
I always look at the pros & cons of major decisions and purchasing a home certainly falls into that category. The more we researched the better we felt about buying here in Little Egg Harbor. In no particular order here are some the things that helped us fall in love with Little Egg Harbor as a shore destination. Most important there was no traffic in getting to our shore home. We had been stuck in LBI traffic more times than we could count. We had no patience for it. If we wanted to go to the LBI beaches, we were close enough, to get there in off times and avoid the maddening stop & go causeway traffic. Property values were reasonable and still are. Post Superstorm Sandy and rebuilding of the area still provides great values in homes compared to other shore towns. We are close to Atlantic City. In about 35 minutes by car or 25 minutes by boat we can be at a casino, catch a headliner show or enjoy great cuisine at the hundreds of restaurants. if you are fortunate to be on a lagoon you can hop in your boat as easy as your car and travel to any of the great restaurants with live entertainment on the Mullica, dock at the Golden Nugget and enjoy any of their great restaurants, night clubs or outdoor bars. If fishing is your thing there is an abundance of it right in the Great Bay or venture out a little bit further and the Atlantic Ocean is a straight run through Great bay. No Boat? Surf fishing at the Radio Road Beach and Graveling point brings in Stripped Bass and Drum Fish the size of a small child. There is no waterfront community quite like it at the Jersey Shore. Join one of the Kayak clubs and venture through the estuaries enjoying nature like you have never seen it before.
Not a "water" person? How about taking the kids camping in one of the several campgrounds we have in town or hiking in Bass River or Wharton State forests which abut Little Egg Harbor.
Want to enjoy all of the benefits of living in a shore community, but don't want to retire in a house on the water? There are five active adult (55+) communities in town, Cranberry Creek, Mystic Shores, Sea Oaks, and Harbor Cove & Sunrise Bay. Sea Oaks is on a championship golf course with an amazing restaurant and on site hotel. If they have no T-times available, the county runs a golf course at Atlantis which also has a restaurant run by the culinary institute at the county college.
We do a bit of out-of-sate travel. Having the modernized Atlantic City International Airport, a 35-minute car ride away & not having to deal with travel crowds has been a Godsend.
All in all, I couldn't have asked for a better place to live in NJ. We have it all. Almost 20 years later we can look back at the wonderful memories we have forged. We look forward to experiencing many more. I wish my wife had expressed her desire to "live on the water" a few years sooner.